---

Recipients of Bush Foundation grants, in descending order
Financials: 2017
# Grant # is NOT the amount given for education reform in Minnesota; it is the total grants paid by the funder for all recipients for the given year.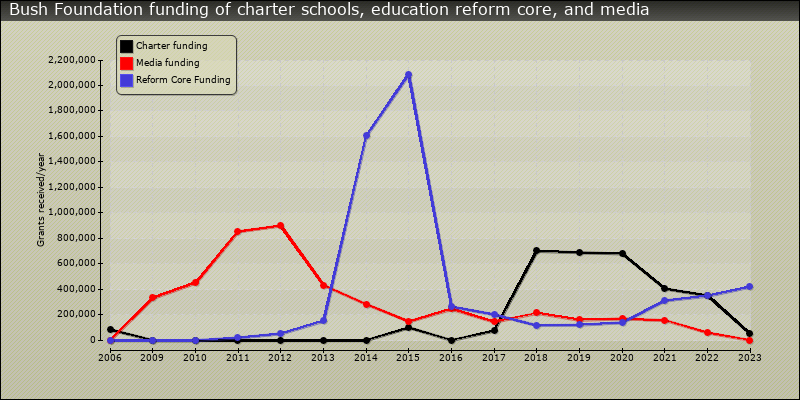 funder: Bush Foundation
Database contains 411 grants from Bush Foundation worth $ 94,772,283
Grants for years: 2006, 2007, 2008, 2009, 2011, 2012, 2013, 2014, 2015, 2016, 2017
ein: 41-6017815
7 institutional roles for $2,588,680
101 Fifth Street East, Suite 2400
St. Paul, MN 55101
http://www.bushfoundation.org/
The Bush Foundation funds much of the education reform policy work.

OTHER LINKS
Rob Levine
Edhivemn.com
September 20, 2019
The foundation famously promised 50% more students in post-secondary education in three states, erasure of so-called 'achievement gaps,' and a fancy new evaluation tool. Ten years later there are actually fewer students in college, 'achievement gaps' are the same or worse, and its hyped $2 million VAM evaluation tool is up in flames - but the foundation is undaunted – proud of its failure
Ten years ago the St Paul-based Bush Foundation embarked on what was at the time its most expensive and ambitious project ever: a 10-year, $45 million effort called the Teacher Effectiveness Initiative (TEI).