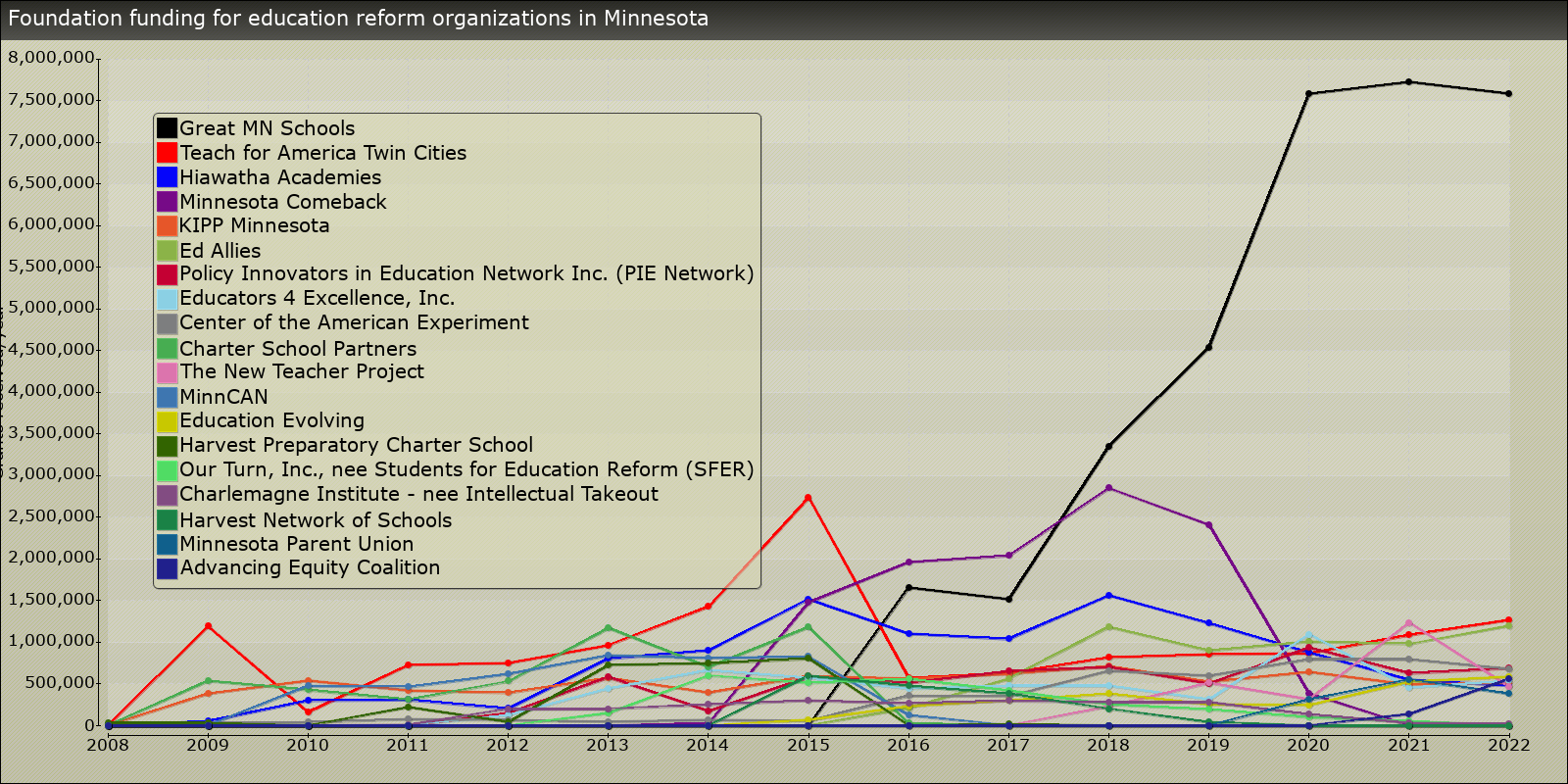 Minnesota Education Reform Core
The organizations and people who comprise Minnesota's corporate education reform movement
Local funders and individuals have formed what social science researcher Janine Wedel calls a "flex-net" or "Shadow Elite" - an Education Reform Core: People who move in and out of various institutions, with little allegiance to those same institutions. Local foundations, in particular, are a prime instrument of the Education Reform Core, providing a continuing stream of tax-exempt funding to organizations fighting to privatize and corporatize state primary and secondary education.
The people who inhabit this flex-net primarily give their loyalty to the people of their own "hive." A perfect example of this is former Minneapolis mayor RT Rybak, who has worked for business interests, the Star Tribune as a reporter, as a politican, as the head of a non-profit - Generation Next, and now as head of the Minneapolis Foundation. Rybak has seamlessly moved from one institution to another, as his support net has benefited off his moves. Now with Rybak heading a foundation with hundreds of millions of dollars to dole out the Education Reform Core is positioned for even greater prosperity.
Similarly, organizations come and go, and the people who run and work at these institutions move between them with the greatest of ease. This year two of the Education Reform Core prime organizations, Charter School Partners (CSP) and MinnCAN, abruptly closed.
Simultaneously two new organizations sprang up to replace them with the same funding and staff. The Charter School Partners successor is Minnesota Comeback. It immediately bragged that it had secured obligations for $30 million, and that its goal was "30,000 relevant and rigorous seats" in the Minneapolis School District.
The MinnCAN successor is called Ed Allies; a newspaper article describing the changeover made the point that the new organization would have the same leadership, staff and funding as its predecessor.
The head of Charter School Partners Al Fan simply moved to head the new organizaton, Minnesota Comeback, which is funded by the same philanthropies that funded MinnCAN and CSP. Fan is a true "flexian" - in addition to running CSP he's been on the boards of the Minneapolis Foundation, Hiawatha Academies and KIPP Minnesota.
The Education Reform Core organizations
NAME
$ RECEIVED
Great MN Schools
$ 21,670,756
Great MN Schools used to be controlled by Minnesota Comeback, but Comeback closed and merged into Great MN Schools in 2020. Click here to see Great MN Schools as a funder.
Teach for America
$ 11,465,950
Hiawatha Academies
$ 10,270,569
Starting Serving Students in 2007 - 2008 (or Planned to Start)

Nee: Hiawatha Leadership Academy
Minnesota Comeback
$ 9,889,019
Minnesota Comeback merged into its owned entity Great MN Schools in 2019.

Minnesota Comeback was previously the legal owner of Great Minnesota Schools.

According to a Minnesota Comeback press release, the organization was incubated by the Minneapolis Foundation as the Education Transformation Initiative.

It's former website was at http://www.mncomeback.org/
KIPP Minnesota
$ 6,420,924
KIPP Minnesota district includes two charter schools, KIPP North Star Primary, and KIPP Minnesota Charter School. Starting Serving Students in 2008 - 2009 (or Planned to Start)
Charter School Partners
$ 4,871,464
Charter School Partners closed in 2016; it was essentially rolled into the new organization, Minnesota Comeback.
Policy Innovators in Education Network Inc. (PIE Network)
$ 4,772,289
PIE Network
MinnCAN
$ 4,155,592
MinnCAN was the Minnesota affiliate of 50CAN, Inc. It broke from 50CAN to form a new organization called Ed Allies in 2016.
Educators 4 Excellence, Inc.
$ 3,969,413
Ed Allies
$ 3,791,500
Was MinnCAN
Harvest Preparatory Charter School
$ 3,099,438
Harvest Prep closed for the 2017-2018 school year, and merged into Best Academy.

Also see Harvest Network, Best Academy, Seed Academy and Mastery School.
Our Turn, Inc., nee Students for Education Reform (SFER)
$ 2,397,750
Charlemagne Institute - nee Intellectual Takeout
$ 2,092,000
The Charlemagne Institute used to be called Intellectual Takeout, but changed its name in 2018.

Intellectual Takeout was originally a project of the Center of the American Experiment. Their logo is a food takeout container - its goal is to arm Republicans with the movement's talking points.
Education Evolving
$ 2,003,250
Harvest Network of Schools
$ 1,564,256
See Harvest Preparatory Charter School for the majority of grants to this entity.
The New Teacher Project
$ 746,206
The curious case of the Minneapolis Foundation, the Minnesota Meeting and MinnCAN
Perhaps nothing better illustrates this flex-net than the curious injection of MinnCAN into the local body education by the Minnneapolis Foundation and its leader Sandra Vargas. Besides being the head of the Minneapolis Foundation, Vargas has had roles at 50CAN - the parent of MinnCAN, another organization the foundation finances called Wallin Education partners, and Michael Cerisi's RKMC Foundation. The chosen launch vehicle was a Minnesota Meeting organized by the foundation, where it hosted the head of ConnCAN - the organization MinnCAN would be modeled after. The event featured a panel of guests who were nearly all funded by the foundation one way or another while the featured guest, Alex Johnston, told a passel of whoppers.
Just to illustrate the level of duplicity employed by local education reform funders, by the time this odd Minnesota Meeting took place - in which the name "MinnCAN" was never mentioned - local foundations, including the Minneapolis Foundation, had already given the still-to-be-born MinnCAN almost half a million dollars.
The meeting was co-sponsored by the Itasca Project, an "employer led alliance" composed of "primarily private-sector CEOs." It describes itself as "virtual organization" that "has no standing agenda, employs no staff and owns no real estate." In other words - it is almost totally unaccountable and opaque. Inquiries about Itasca are directed to McKinsey & Company, "a global management consulting firm that focuses on solving issues of concern to senior management." According to Wikipedia, McKinsey maintains "a carefully crafted and low-profile external image, which also protects it from public scrutiny." The involvement of the Itasca Project is but one sign of the power of business in the whole enterprise described by this website.
Johnston was introduced at the Minnesota Meeting by Mary Brainerd, "CEO of Health Partners and chair of Itasca project." In fact, Health Partners was given $100,000 by the Minneapolis Foundation in 2008 "to fund the Itasca Project for Management and initiatives."
A deeper look at the Minneapolis Foundation's schedule of grants reveals many grants to Twin Cities Public Television, another partner in the Minnesota Meeting, which broadcast Johnston's speech five times, and more money to the Peace Foundation, whose president, Sondra Samuels, was on the discussion panel following the talk. The panel also included Bernadeia Johnson, the superintendent of Minneapolis Public Schools, which also receives grants from the foundation. Even Growth & Justice, where Dane Smith speculated the ConnCan meeting might hold political portent, receives grants from the foundation.
Foundation support for local non-profit media
Which brings us to the local funders heavily and continuously underwriting local non-profit media, particularly Minnesota Public Radio, Twin Cities Public Television, and MinnPost. The funding of MinnPost by the local funders is particularly intersting, because despite its small size and reach it has been given about a quarter of what the foundations have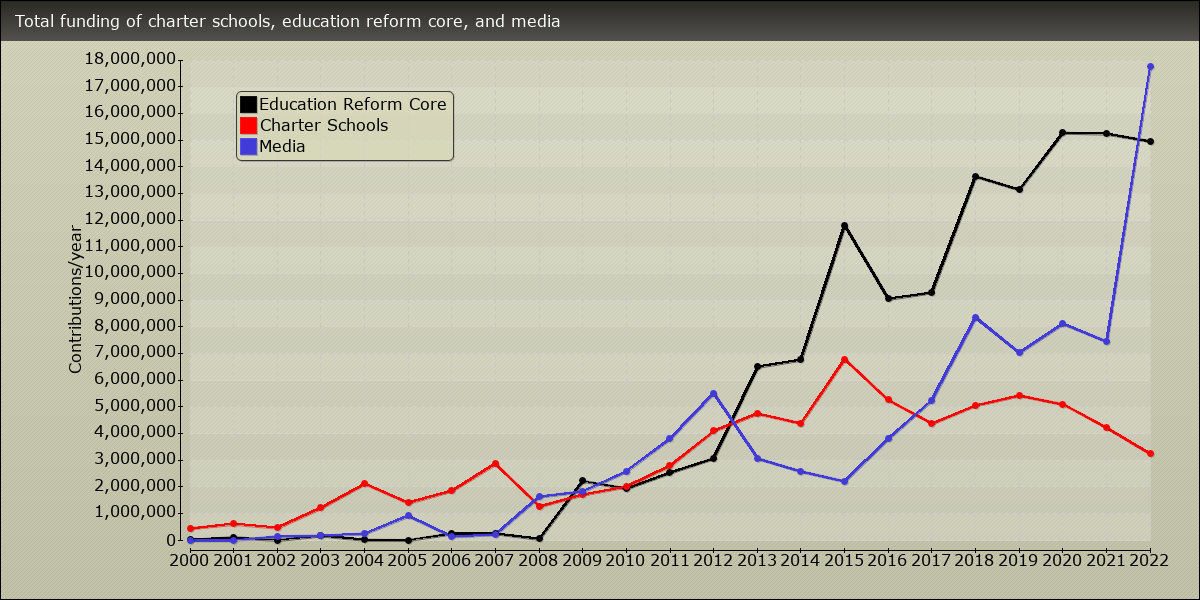 given Minnesota Public Radio, despites its much higher stature.
The inclusion of grants to non-profit media is not intended to mean that all these grants are for educational purposes - in reality only a small percentage are actually marked for educational use. The inclusion shows the close funding relationship between local foundations and local non-profit media. The funded media institutions don't always follow the foundations' leads - but they would think long and hard before actually challenging an important foundation-led narrative and funding pattern such as that with corporate education reform. In practice for education it has meant an enthusiastic embrace of the foundations' education agendas and rarely, if ever questioning the underlying assumptions.
Non-profit leaders don't need to be told to behave this way - it is a built-in facet of charity leaders - you don't unnecessarily contradict the most cherished policies of the hands that feed you. Given the structure of modern large non-profits it's probably to be expected that the leaders of these media institutions actually share the same pro-corporate, pro-market ideologies of their funders.