---

Recipients of Minneapolis Foundation grants, in descending order
Financials: 2016
# Grant # is NOT the amount given for education reform in Minnesota; it is the total grants paid by the funder for all recipients for the given year.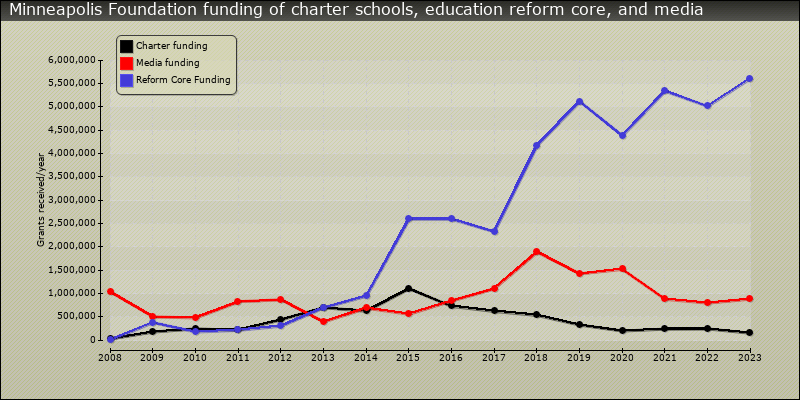 funder: Minneapolis Foundation
Database contains 698 grants from Minneapolis Foundation worth $ 52,392,164
Grants for years: 2008, 2009, 2010, 2011, 2012, 2013, 2014, 2015, 2016, 2017
ein: 41-6029402
118 institutional roles for $10,508,152
800 IDS Center 80 S Eighth St
Minneapolis, MN 55402
http://www.minneapolisfoundation.org/
The grants made to charters by the Minneapolis Foundation are somewhat obfuscated by the method it uses to fund them. It creates and virtually controls local organizations such as the now-defunct Charter School Partners and its replacement Minnesota Comeback, whose function is to direct Walton Family Foundation charter school startup grants in the state.

Year
Role
Hrs/week
Pay
Source
990 src
Adams, Jean
11 roles; show | hide | all roles | profile)
total pay:
$ 2,459,411
Baylor, Tim
1 roles; show | hide | all roles | profile)
Bazinet Beck, Maureen
1 roles; show | hide | all roles | profile)
Black, Tawanna
1 roles; show | hide | all roles | profile)
total pay:
$ 164,142
Burns, Ann B.
1 roles; show | hide | all roles | profile)
Carstarphen, Meria
4 roles; show | hide | all roles | profile)
Conlin, Jan
1 roles; show | hide | all roles | profile)
Cooper, Christopher C.
1 roles; show | hide | all roles | profile)
total pay:
$ 128,273
Cunningham, Gary L.
3 roles; show | hide | all roles | profile)
Dolan, Terry
1 roles; show | hide | all roles | profile)
Eisberg, John F.
4 roles; show | hide | all roles | profile)
Erickson, Scott R.
1 roles; show | hide | all roles | profile)
Fan, Al
4 roles; show | hide | all roles | profile)
Flanagan, Peggy
1 roles; show | hide | all roles | profile)
Frias, Luz
4 roles; show | hide | all roles | profile)
total pay:
$ 737,951
Fullerton, Robbie
1 roles; show | hide | all roles | profile)
George, Devean
1 roles; show | hide | all roles | profile)
Givens, Archie Jr
1 roles; show | hide | all roles | profile)
Gray, Catherine
2 roles; show | hide | all roles | profile)
total pay:
$ 268,452
Halloran, Beth
1 roles; show | hide | all roles | profile)
total pay:
$ 299,730
Halper, Judy
1 roles; show | hide | all roles | profile)
Hampton, Tonya L.
1 roles; show | hide | all roles | profile)
Harvey, Patricia A.
1 roles; show | hide | all roles | profile)
Hertel, Amy
3 roles; show | hide | all roles | profile)
total pay:
$ 384,980
Howell, Richard D.
1 roles; show | hide | all roles | profile)
Johnson, Jenny
2 roles; show | hide | all roles | profile)
total pay:
$ 243,990
Koepplinger, Suzanne
1 roles; show | hide | all roles | profile)
Levy-Pounds, Nekima
7 roles; show | hide | all roles | profile)
Lifson, Todd J.
1 roles; show | hide | all roles | profile)
Luger, Ellen
1 roles; show | hide | all roles | profile)
total pay:
$ 161,097
Moore, Leni
1 roles; show | hide | all roles | profile)
Morris, Ginny
1 roles; show | hide | all roles | profile)
Morrow, Teresa
2 roles; show | hide | all roles | profile)
total pay:
$ 405,112
Mortenson, David
1 roles; show | hide | all roles | profile)
Murphy, Patty
1 roles; show | hide | all roles | profile)
Noor, Sahra
1 roles; show | hide | all roles | profile)
Norman, Ravi
1 roles; show | hide | all roles | profile)
Olsen, Susan
1 roles; show | hide | all roles | profile)
total pay:
$ 111,629
Pangerl, Liz
1 roles; show | hide | all roles | profile)
Perez, Gloria
1 roles; show | hide | all roles | profile)
Persuitti, Justin CFA
1 roles; show | hide | all roles | profile)
Pietsch, Brian J.
1 roles; show | hide | all roles | profile)
Piper, Gretchen
1 roles; show | hide | all roles | profile)
Rickeman, Norman
1 roles; show | hide | all roles | profile)
Rosenbaum, Sam
1 roles; show | hide | all roles | profile)
Rothschild, Steven M.
6 roles; show | hide | all roles | profile)
Rybak, R.T.
4 roles; show | hide | all roles | profile)
total pay:
$ 535,559
Smith, Phil
1 roles; show | hide | all roles | profile)
Soran, Margie
2 roles; show | hide | all roles | profile)
Stately, Jo Anne
1 roles; show | hide | all roles | profile)
total pay:
$ 142,362
Sternberg, William
2 roles; show | hide | all roles | profile)
total pay:
$ 379,516
Stortz, Lowell
1 roles; show | hide | all roles | profile)
Sullivan, John
2 roles; show | hide | all roles | profile)
Swanson, Kent
2 roles; show | hide | all roles | profile)
total pay:
$ 291,271
Taft, John
1 roles; show | hide | all roles | profile)
Thao-Urabe, Bo
1 roles; show | hide | all roles | profile)
Vargas, Sandra
10 roles; show | hide | all roles | profile)
total pay:
$ 3,500,297
Wehrwein, Sven A.
1 roles; show | hide | all roles | profile)
Wenz, Greg
2 roles; show | hide | all roles | profile)
total pay:
$ 294,380
Whitney, Benson
1 roles; show | hide | all roles | profile)
Wyatt, Jane
1 roles; show | hide | all roles | profile)