PROPERTIES
RELATED LINKS
Financials*
year:
2014
assets:
$ 824,698
revenue:
$ 1,036,590
expenses:
$ 995,648
year:
2013
assets:
$ 783,756
revenue:
$ 1,490,462
expenses:
$ 1,240,526
year:
2012
assets:
$ 533,820
revenue:
$ 1,044,759
expenses:
$ 792,757
year:
2011
assets:
$ 281,818
revenue:
$ 469,242
expenses:
$ 563,727
year:
2010
assets:
$ 376,303
revenue:
$ 622,792
expenses:
$ 435,726
year:
2009
assets:
$ 189,237
revenue:
$ 483,898
expenses:
$ 461,159
* All from IRS 990. Assets = line 21; Revenue = line 12; Expenses = line 17.
RECIPIENT PROFILE
CLOSED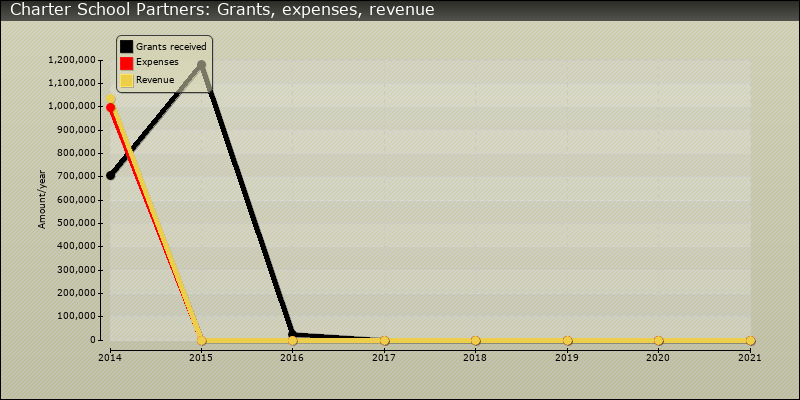 Charter School Partners
50 grants received for $ 4,871,464
view grants received | view grants received chart
TYPE: 501(c)(3)
EIN: 26-2702539
2800 University Avenue Southeast, Suite 202
Minneapolis, MN 55414-4205
http://www.charterschoolpartners.org/
Charter School Partners closed in 2016; it was essentially rolled into the new organization, Minnesota Comeback.
46 institutional roles for $351,000
Before becoming Minnesota Comeback, Charter School Partners was in the middle of a long range plan to open 20 new charter schools in Minneapolis.
The following is from the CSP website in 2013:

CSP Partner Schools vary widely in demographics and philosophy. They include project-based, blended-learning, Montessori, Core-Knowledge, International Baccalaureate and language immersion schools; start-ups and well-established schools, inner-city, and suburban schools. Ten different state authorizers are represented by CSP Partner Schools. Current Partner

Schools include the following:

ARCH Academy, Minneapolis
Bdote Learning Center, Minneapolis**
Beacon Preparatory Academy, Bloomington
Best Academy, Minneapolis
Bright Water Elementary School, Minneapolis
Cologne Academy, Cologne
Community of Peace Academy, St. Paul
Cornerstone Montessori Elementary, St. Paul
Cyber Village Academy, St. Paul
Global Academy, Columbia Heights
Harvest Prep, Minneapolis
Hennepin Elementary School, Minneapolis
Hiawatha Academies, Minneapolis
Higher Ground Academy, St. Paul
KIPP Stand Academy, Minneapolis
Lakes International Language Academy, Forest Lake
Minneapolis Academy, Minneapolis
Minneapolis College Prep, Minneapolis
Math and Science Academy, Woodbury
Mastery School, Minneapolis
New City Charter School, Minneapolis
Northeast College Prep, Minneapolis*
Nova Classical Academy, St. Paul
Paideia Academy Charter School, Apple Valley
Prodeo Academy, Minneapolis
Seven Hills Classical Academy, Bloomington
St. Croix Preparatory Academy, Stillwater
St. Paul Conservatory for Performing Artists, St. Paul
Twin Cities Academy, St. Paul
Venture Academy, Minneapolis
West Side Summit, St. Paul
Yinghua Academy, Minneapolis

* CSP Fellowship School
**CSP Charter Start School



From the CSP 2015 990: CSP moving to unnamed Minnesota Comeback.

Year
Role
Hrs/week
Pay
Source
990 src
Bell, Peter
(1 roles; show | hide | all | profile)
Bloomberg, Laura
(6 roles; show | hide | all | profile)
Fan, Al
(5 roles; show | hide | all | profile)
total pay:
$ 351,000
Flemming, Scott
(1 roles; show | hide | all | profile)
Ford, Jim
(1 roles; show | hide | all | profile)
Hatlie, Phil
(6 roles; show | hide | all | profile)
Hupp, John
(6 roles; show | hide | all | profile)
Kibbel, Glory
(1 roles; show | hide | all | profile)
Kimble, Janine
(3 roles; show | hide | all | profile)
Retelle, Cecilia
(1 roles; show | hide | all | profile)
Sellers, Daniel
(5 roles; show | hide | all | profile)
Stewart, Chris
(6 roles; show | hide | all | profile)
Testerman, Justin
(1 roles; show | hide | all | profile)
Topoluk, Beth
(1 roles; show | hide | all | profile)
Wetzel, Janine
(2 roles; show | hide | all | profile)